Psychiatrist
We offer diverse psychology and psychiatry activities depending on programme types and contexts: programmes integrated into hospital activities, psychiatric and psychological consultations, programmes offering specific care for trauma (conflicts, sexual violence) and certain diseases (tuberculosis, AIDS) or under-aged children.
Profile
EXPERIENCE: Must be qualified psychiatrists or interns/house doctors with six validated semesters in psychiatry (thesis mandatory for some countries).
AVAILABILITY: 3 months minimum.
LANGUAGES: comfortable with English, Literary Arabic knowledge is a plus.
SKILLS: mastery of IT tools for team and data management. Management or training experience prefered. Clinical training or experience in babies, children and adolescents, clinical training or experience in trauma, clinical trans-cultural training optional.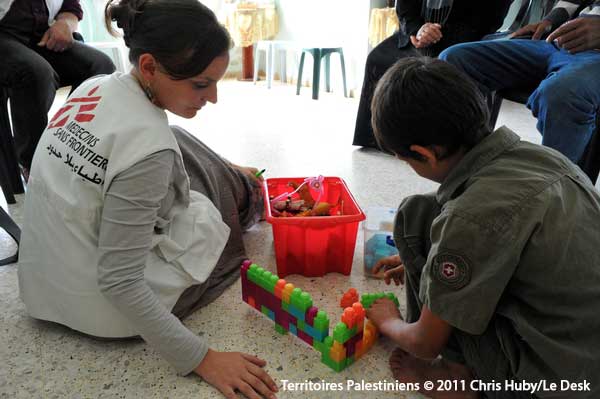 Activities

Generally speaking the work is mostly clinical. It also calls for local team coordination and training via mentorship and support. Ready to work within multi-cultural, multi-disciplinary teams. In most programmes, local teams (usually psychologists) ensure the continuity of care. Expatriates are in charge of:
provides individual clinical consultations, psychiatric,
participates or organises the group's therapeutic or psycho-pedagogical activities,
supports the programme and the team by suggesting improvements in line with MSF's objectives and strategies,
coordinates the team's efforts by developing and/or improving working tools if required,
identifies national staff training needs and organises sessions in the areas identified,
organises patient referrals to adequate local facilities if needed.
Often mental health teams are composed of a pair psychologist / psychiatrist. These activities are only examples and obviously depend on the missions.
Urgent
MSF recherche des :

Kinésithérapeutes expérimentés « brulés »

Psychologues et psychiatres
Responsables d'activités médicales

Anesthésistes pédiatriques


Chirurgiens pédiatriques

Gynécologues obstétriciens

Chefs de mission
Coordinateurs de Projet
Coordinateurs Financiers et RH
Coordinateurs Logistique
Une expérience en ONG est requise pour les postes de Coordinateurs et Chefs de mission. Cliquez ici
De trop nombreuses candidatures au regard des possibilités de départ (occasionnant un délai d'attente d'environ un an) nous conduisent à inviter les infirmiers généralistes à postuler dans quelques mois. Ce message ne concerne pas les infirmiers ayant une expérience significative en néonatologie, très recherchés pour nos programmes.
Il en est de même pour les logisticiens généralistes (délai d'attente environ 10 mois). Nous vous conseillons donc de postuler dans quelques mois. Ce message ne s'adresse pas aux logisticiens spécialisés (EHA, construction, mécanicien…) NB : logisticiens EHA expérimentés MSF ou autre ONG très recherchés en ce moment.