Doctor and nurse anaesthetists
The doctor anaesthetist is responsible for the delivery of pre-operative care, anaesthesia and post-operative care. He/she (hereafter referred to as he) provides fitting pain management in line with MSF protocols.
In 2013, anaesthesia was administered in 34 689 cases. A high proportion were administered to children: 23% children under 10 years old and 6% of children under 2 years old. In total, 114 doctor anaesthetists and 82 nurse anaesthetists left for the field in 2013. 25% of the doctors and 13% of the nurses were conducting their "first mission".
Profile
DIPLOMA: specialist diploma for doctor and nurse anaesthetists
EXPERIENCE: two years (excluding work experience) and autonomous in the administration of anaesthesia for nurse anaesthetists
AVAILABILITY: 1 to 6 months
LANGUAGES: basic English needed
Ready to work in multi-cultural, multi-disciplinary teams, easy inter-personal relations.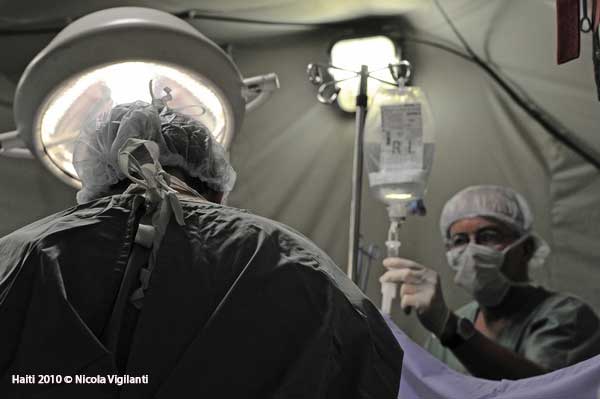 Activities

The nurse anaesthetist administers anaesthesia in the operating theatre under the supervision of the doctor anaesthetist. Furthermore, he also manages anaesthesia material.

for the doctor
provides pre-operative consultations for patients undergoing a procedure (questions on prior health history, takes into account risk factors, conducts in-depth auscultation, secures additional examinations if necessary, etc.), decides which type of anaesthesia to use and evaluates the surgical risk,
prepares the equipment then adminsters the anaesthesia, provides ongoing surveillance on the efficiency/safety of the anaesthesia underway and monitors the patient's vital parameters throughout the procedure,
monitors and delivers post-operative care: checks the patient comes round correctly and sets up the measures needed for any incident of shock, evaluates pain and sets up a post-operative antalgic treatment protocol, discusses therapeutic decisions with the doctor in charge of the department...

for the nurse
manages anaesthesia material and medicines, undertake the pre-anaesthesia preparations, help the doctor anaesthetist and undertake administration himself,
participates in the patient's installation in the recovery room and ensures a handover to the recovery room nurse.
Both doctors and nurses oversee and monitor adherence to hygiene rules concerning patient and staff protection and know the steps to take in the event of accidental exposure to blood.
Urgent
MSF recherche des :

Kinésithérapeutes expérimentés « brulés »

Psychologues et psychiatres
Responsables d'activités médicales

Anesthésistes pédiatriques


Chirurgiens pédiatriques

Gynécologues obstétriciens

Chefs de mission
Coordinateurs de Projet
Coordinateurs Financiers et RH
Coordinateurs Logistique
Une expérience en ONG est requise pour les postes de Coordinateurs et Chefs de mission. Cliquez ici
De trop nombreuses candidatures au regard des possibilités de départ (occasionnant un délai d'attente d'environ un an) nous conduisent à inviter les infirmiers généralistes à postuler dans quelques mois. Ce message ne concerne pas les infirmiers ayant une expérience significative en néonatologie, très recherchés pour nos programmes.
Il en est de même pour les logisticiens généralistes (délai d'attente environ 10 mois). Nous vous conseillons donc de postuler dans quelques mois. Ce message ne s'adresse pas aux logisticiens spécialisés (EHA, construction, mécanicien…) NB : logisticiens EHA expérimentés MSF ou autre ONG très recherchés en ce moment.