Medical Coordinator
The medical coordinator liaises with the head of mission and is in charge of managing—from conception and planning through to implementation—an MSF programme in a particular country.
Profile
QUALIFICATIONS: fully registered or holder of a current licence provided by the relevant professional organisation.
EXPERIENCE: 2 years supervising a humanitarian medical programme in another country (project coordinator or head of medical team), professional medical or paramedical experience, experience in public health, epidemiology or tropical medicine—including infectious diseases HIV/AIDS, tuberculosis, or disaster medicine, experience in preparing project proposals, planning and evaluation of health environments, team management.
AVAILABILITY: 12 to 24 months minimum.
LANGUAGES: working knowledge of English and basic knowledge of another language such as Spanish, Portuguese, Russian, Arabic, etc. is a definite plus.
SKILLS: ability to coordinate the response to a medical emergency, good communication skills, awareness and understanding of the importance of speaking out and advocacy in MSF's mandate.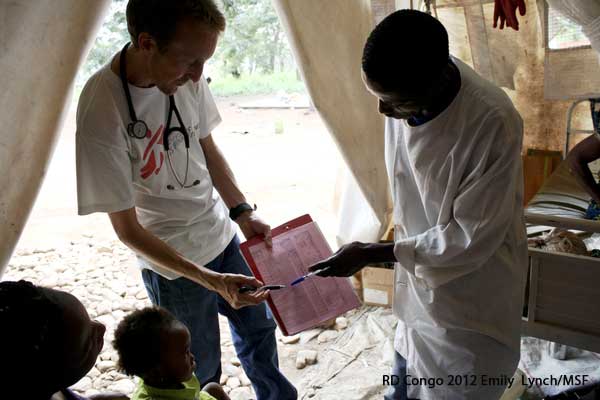 Responsibilities
The medical coordinator supervises project coordinators involved in medical activities and works closely with the logistics coordinator and finance and HR coordinator. Reporting to the programme manager and head of mission, the medical coordinator ensures the relevance and quality of healthcare provision in current and future MSF projects. He or she represents the association to national medical authorities and other healthcare agencies operating in the country.
1. Analysis, conception and definition of objectives for MSF projects

Data collection
propose data collection options and medical indicators and collect data for all activities.
Analyse, interpret and draw up proposals for action
analyse data collected and present how the event is progressing, people's health status, the pertinence and performance of healthcare activities,
adapt resources and strategies,
draw up reports on the objectives, outcomes of activities and adjustments,
draft proposals for medical activities, prepare the budget with the coordination team.
Coordinate relations with in-country medical authorities
represent MSF to national medical authorities,
negotiate in accordance with opinions and advice given by the desk and medical department.
2. Implementation of MSF programmes
Set up material resources to implement medical activities in accordance with project specifications
supervise set up, correct use and maintenance of diagnostic, clinical and therapeutic tools for patient management,
relay orders for supplies and consumables to the programme manager,
ensure quality control of transport and storage,
set up monitoring of consumption and management of project pharmacies.
Ensure the wellbeing and safety of patients and healthcare personnel
monitor and explicate case fatality rates and set up an adapted response,
ensure compliance with health protection measures for personnel and patients,
ensure skills of locally employed and international staff are upgraded,
ensure compliance with medical ethics,
evaluate the quality of proposed services,
document side effects of treatments.
3. Supervision, management of human resources and training of medical staff
Setting up teams and personnel recruitment
assist with setting up teams,
validate skills profiles and the recruitment process, take part in recruitment of medical personnel and make the final choice.
Skills and progress assessments
assist with supervising project coordinators and support them with managing healthcare teams,
draw up individual assessments of medical activity managers,
organise and ensure access to medical information flows,
keep abreast of medical policies,
propose career paths, set up training,
train and supervise all staff reporting to him or her,
share experiences and mentor project coordinators and doctors looking to progress.
Urgent
MSF recherche des :

Kinésithérapeutes expérimentés « brulés »

Psychologues et psychiatres
Pharmaciens
Coordinateurs Financiers

Responsables d'activités médicales

Anesthésistes pédiatriques


Chirurgiens pédiatriques

Gynécologues obstétriciens

Chefs de mission
Coordinateurs de Projet
Coordinateurs Financiers et RH
Coordinateurs Logistique
Une expérience en ONG est requise pour les postes de Coordinateurs et Chefs de mission. Cliquez ici
De trop nombreuses candidatures au regard des possibilités de départ (occasionnant un délai d'attente d'environ un an) nous conduisent à inviter les infirmiers généralistes à postuler dans quelques mois. Ce message ne concerne pas les infirmiers ayant une expérience significative en néonatologie, très recherchés pour nos programmes.
Il en est de même pour les logisticiens généralistes (délai d'attente environ 10 mois). Nous vous conseillons donc de postuler dans quelques mois. Ce message ne s'adresse pas aux logisticiens spécialisés (EHA, construction, mécanicien…) NB : logisticiens EHA expérimentés MSF ou autre ONG très recherchés en ce moment.
Enfin, nos besoins concernant les postes de chargés de communication sont satisfaits pour l'année 2018. Pour ces postes, il est donc demandé aux candidats de ne postuler qu'à compter d'octobre/novembre 2018.